Blog
Weed in the Workplace
Workplace safety will always be a top concern, and now that Canada has come closer to the legalization of recreational marijuana with the introduction of the
Cannabis
Act, or Bill C-45, it has raised a lot of questions and concerns as to how this will affect the workplace if the new Act is passed on July 1, 2018.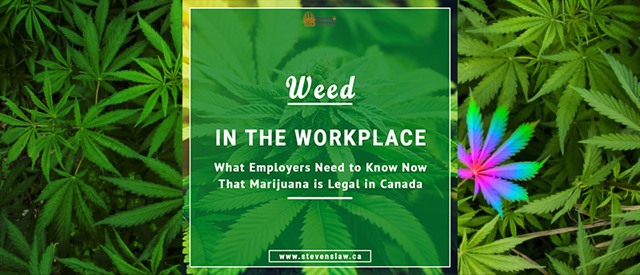 While the policy for the Cannabis Act some of the major areas of the proposal, limiting use to adults 18 and older and allowing them to carry up to 30 grams of the substance on their person along with other guidelines pertaining to growing plants. When it comes to the workplace, restrictions will depend solely on each individual company's regulations designed for the workplace. Depending on the type of work that you do, will play a role in any restrictions the company may place on the use of recreational marijuana. Adding to the mix, each Province will also have the right to further define any other restrictions or allowances pertaining to the Act.
What complicates the subject even more, is the role in which patients with a medical need or disability may impact workplace restrictions on recreational users. While almost all employers prohibit use of alcohol in the workplace, restriction of drug use in the workplace is more complex. While the intoxication effects of alcohol has been studied for years, there is relatively little research on the impairment effects of cannabis. The use of marijuana and its impact on the workplace gives rise to employers having to ferret out whether an employee uses for medical purposes, recreational purposes or has a dependency requiring accommodation.
Regardless of all the upcoming debates and studies which will begin to spin the closer we get to July 1, 2018, here are six key takeaways to help you adjust to these new changes.
Not a license for poor behaviour.

Just because recreational use of marijuana may be legal, does mean that poor behavior in the workplace will be tolerated. Essentially, there is not much difference between the restriction of alcohol and other drugs in the workplace.

Policies are important. Good policies in the workplace is important but their consistent application is far more effective when setting the expectations. Well defined policies also clarify workplace use, provide a basis for disciplinary actions and make sure the organization is compliant with occupational health and safety and human rights obligations


Update key terms.

This will be an important step when updating existing company policies and procedures, such as the definition of the term "drug" and "workplace". How will this affect current policies on the use of alcohol during work functions or meetings? Will there be a minimum "sober" time before work? The requirement of any disclosure for marijuana addition or medical use. Or even whether there may need to be any accommodations created to support any medical or disability-related use.


Implement and follow your policies.

Updated polices should be clearly communicated to employees, along with any expectations regarding recreational marijuana and impairment in the workplace. All policies should be consistently enforced along with any disciplinary actions for breaching policies. Consistency can help avoid a claim of discrimination.


Provide accommodation where required.

Discrimination against employees due to addiction or disabilities is prohibited. From a human rights perspective, these types of accommodations have not changed. Because of the sensitive nature of these accommodations, it is important that employees be educated on workplace discrimination.


Management reminder.

Occupational health and safety legislation across Canada requires employers to ensure a safe workplace. Therefore, it is important for directors and management to review and educate themselves on the effects of marijuana and the issues it can create, review, revise and adopt policies and ensure their implementation and enforcement.